Taco & Margarita Festival
It's the Lake of the Ozarks Oktoberfest 5k and .5k. Yes, a half-kilometer race (.31 mile) for non-runners!
Starting and finishing at The Sanctuary Brewery in Osage Beach, it will be an event to remember. Presented by Fund Runs to benefit Wonderland Camp. 
Saturday, October 21, 9 a.m.
The Sanctuary Brewery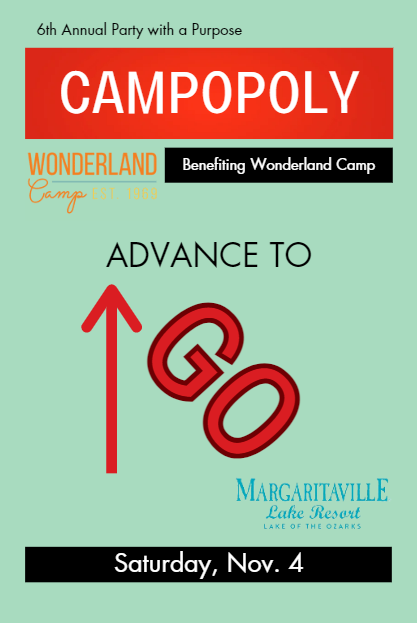 Party with a Purpose – Campopoly
The 6th Annual Party with a Purpose benefiting Wonderland Camp is Saturday, November 4 at Margaritaville – Lake Resort.
This year's theme is Campopoly – a camp take on a favorite American board game.  Want to dress the part?   Come as your favorite board game playing piece, or even any camp item that should be!
There will be amazing entertainment and a live and silent auction that you won't want to miss!
Interested in being a proud sponsor? Please contact mike@wonderlandcamp.org or go to https://e.givesmart.com/events/xLD/
Saturday, November 4th, 6:00pm
Margaritaville – Lake Resort